Hotel Pullman New Delhi Aerocity is a top-quality five-star hotel located close to the Indira Gandhi International Airport. The rooms are elegantly decorated and feature a wide variety of fine dining options as well as a luxurious indoor pool and spa. In addition, the hotel offers complimentary airport transportation for guests' convenience. Overall, it's an excellent choice for both business travelers looking for peace and relaxation, as well as leisure guests who want to explore all that New Delhi has to offer.
The facility offers a variety of well-equipped meeting rooms, making it an excellent choice for professional events. The staff takes great pride in their commitment to providing superior service and personal attention that ensures each guest enjoys a truly memorable experience while they're here.
Hotel Pullman New Delhi Aerocity – Rooms
The Pullman New Delhi offers elegantly decorated rooms with all the modern amenities a traveler could want. Each room features a flat-screen TV, tea/coffee-making capabilities, Wi-Fi access, and climate control in an exquisite contemporary style. Some superior rooms also feature city views through large windows.
The Pullman New Delhi has spacious bathrooms with separate shower and toilet cubicles as well as top-of-the-line amenities such as 24-hour dining and room service. With all these features available, the hotel's rooms provide a luxurious yet comfortable stay for business or leisure travelers in India's bustling capital city!
Hotel Pullman – Bar Resturent
Hotel Pullman New Delhi Aerocity is well-known for its high standard of hospitality and excellent service. It has a bar and restaurant, which is known for providing quality food and drinks in an elegant setting. From the 24th-floor Sky Lounge, you can enjoy stunning views of the cityscape while indulging in your favorite drink or meal.
The menu offers an extensive selection of beverages along with popular international cuisines that are prepared with only the finest seasonal ingredients. Specialty cocktails complement finger food choices such as Caesar salad, Hawaiian pizza, taco platter, and more. The professional yet friendly staff strives to make sure guests have a pleasant experience. It's an ideal location for corporate gatherings or celebrations among family and friends alike.
Hotel Pullman – Fitness
The Hotel Pullman New Delhi offers guests an expansive range of fitness facilities. The state-of-the-art gym is fully equipped with the latest professional equipment and has qualified fitness trainers ready to help you reach your goals. Guests can also take advantage of classes such as yoga, Pilates, kickboxing, and strength training in a comfortable environment with friendly staff. The hotel also features two temperature-controlled swimming pools for those looking to get some exercise while cooling off on a hot day. With complimentary towels and refreshments available poolside, Hotel Pullman New Delhi provides both the amenities and support necessary to reach whatever health and wellness objectives their guest seek.
Hotel Pullman – Spa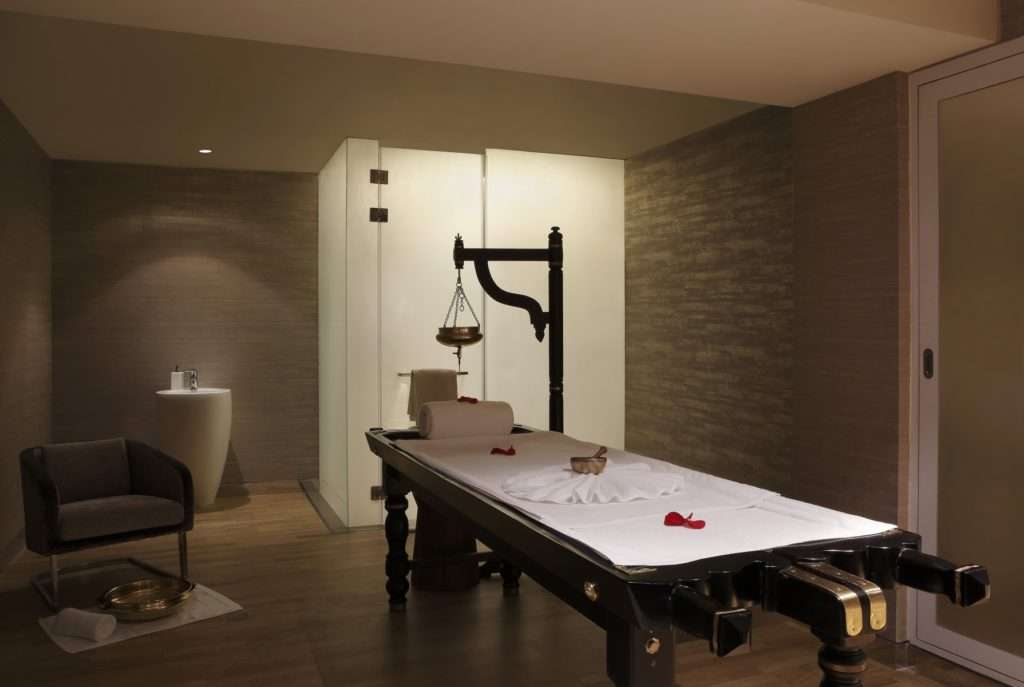 The Hotel Pullman New Delhi spa offers a variety of services to help guests relax and rejuvenate. The air-conditioned spa creates an oasis of relaxation with its contemporary interiors, ambiance, and attentive staff. Guests can enjoy a range of luxurious treatments designed in accordance with international standards to detoxify, firm the body and improve skin glow.
Experienced therapists provide an unparalleled level of sensory delight with everything from aromatherapy massages to facial treatments. Signature treatments such as the Hot Stone Massage use essential oils as well as volcanic stones for increased blood circulation and mental clarity. Guests also have access to 24-hour beauty parlors, and signature nail services amongst other amenities guaranteed by this five-star luxury-hotel spa experience.
Hotel Pullman – Address
Hotel Pullman New Delhi Aerocity ☆☆☆☆☆
Asset No 02 GMR Hospitality District IGI Airport New Delhi, 110037 NEW DELHI
INDIA
Tel: (+91)1146080808
Fax: (+91)1146080809
Email: H7559-re@accor.com
Website: The Hotel Pullman New Delhi
Hotel Pullman New Delhi Aerocity – Conclusion
The Hotel Pullman New Delhi Aerocity is a luxurious 5-star property situated in the heart of the capital and conveniently located near IG International Airport. The sleek and modern décor makes it an ideal venue for business meetings and conferences, while its range of leisure facilities provides guests with plenty of ways to relax, unwind and enjoy their time away. From its airy guestrooms to its rooftop infinity pool, this hotel offers some of the best amenities available in New Delhi. Whether seeking short or long-stay accommodation, couples or families traveling together, the friendly staff at Hotel Pullman New Delhi Aerocity ensures that guests have a comfortable and memorable experience throughout their visit.
Hotel Pullman New Delhi Aerocity – Photo Gallery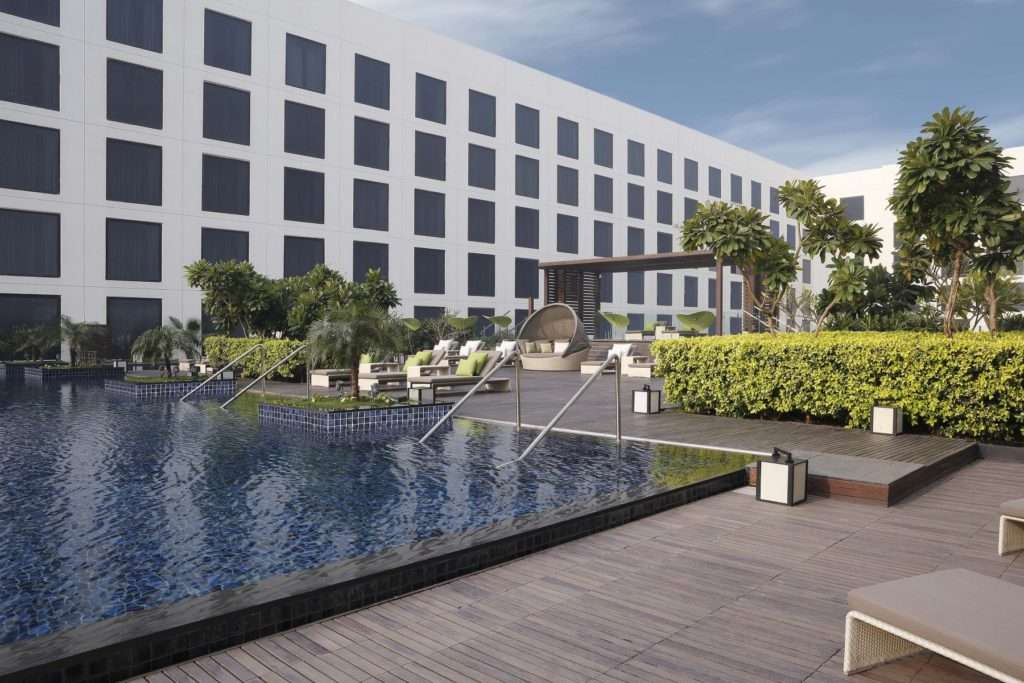 Visit Top India Hotels